La Roche Posay Effaclar Gel Facial Cleansing Gel 400 ML
Tax included.
Shipping
calculated at checkout.
People
are viewing this right now
Hurry, DON'T MISS THE DISCOUNT!
%-D
%!D:Day,Days;
%-H
%!H:hour,hours;
%-M
%!M:min,mins;
%-S
%!S:sec,secs;
Description
La Roche Posay Effaclar Gel Facial Cleansing Gel 400 ML

Facial Cleansing Gel

For Oily, Acne-Prone Skin

Removes Dirt And Excess Oil

Instant Soothing

Anti Comedogenic

La Roche Posay Quality
La Roche Posay Effaclar Features
Among the La Roche Posay face wash gel products, Effaclar gel attracts a wide range of users thanks to its many different features. La Roche Posay Effaclar , which maintains its popularity from its rich content to the points that it supports in the field of facial cleansing, helps you to easily purify the dirt and oil on the skin thanks to the zinc PCA in its gel formula.
" While the zinc PCA contained in the product supports the maintenance of moisture balance, it also successfully dries the types of inflammation caused by acne. "


At the same time, the zinc PCA content, which can keep the activity of the sebaceous glands under control, is offered in La Roche Posay Effaclar gels with its versatile properties . Ideal for daily use, La Roche Posay Effaclar gel is in a 400 ml bottle and provides easy application through its push-in place on the mouth. These facial cleansing gels, which stand out for their gentle cleansing of the skin, help to remove sebum as well as dirt.

As you know, sebum is a kind of secretion produced by sebaceous glands. Since these La Roche Posay facial cleansing products are suitable for oily and acne-prone skin, they can be preferred to prevent excess sebum.
"Thanks to all of this, it becomes easier to achieve a well-groomed face that is free from dirt, sebum and blackheads."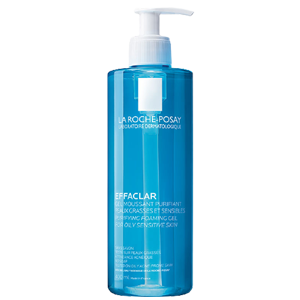 What Does It Do?


Standing out among La Roche Posay gel products, 400 ml Effaclar is highly preferred in terms of reducing the appearance of skin imperfections. Zinc PCA, which is included in the content of the product, passes the class with many features from acne to sebum balance.

In this respect, La Roche Posay Effaclar gels can reduce sebum by up to 16%, while reducing blackheads by 25%. These facial cleansing gels, which prevent excess sebum production, can thus be among the products used daily by those who want to create an effective facial care program for themselves.

In addition to these, the product evokes a feeling of freshness and peace with its soothing effect on the skin. La Roche Posay Effaclar gels, which can provide an anti-irritation effect, can thus be preferred with their anti-irritation side. La Roche Posay Effaclar 400 ml facial cleansing gels, which can purify the skin from oil, can also make it easier for skin types prone to acne to take precautions.
How to use?
First of all, you need to foam the gel in your hand with a small amount of water. Then you can apply it to your face in general or directly to the problem spots. While applying the foaming gel on your face, do not forget to move in a circular motion and proceed as if you are doing a gentle massage. It may also be more ideal to focus on the T-zone and neck on the face.


"For those who don't know: T zone is called the parts of the face that cover the forehead, nose and chin. After completing the application process, you can rinse with cold water to help tighten your pores. Use a clean face towel for this and keep a clean face towel at hand during the massage. You can also perform the drying process with buffer movements to prevent friction and discomfort caused by friction.
What Should Be Considered While Using?
First of all, the comments made by those who use La Roche Posay Effaclar gel can make it easier for you to list the things you need to pay attention to during use. For example, these products stand out as facial cleansing gels suitable for oily skin and acne-prone skin. Therefore, skin types prone to facial acne or experiencing excessive oiliness may prefer La Roche Posay Effaclar gels. If you are of this skin type, you can use these facial cleansing gels of the brand.

During the usage phase, it is important not to overdo it with the amount to be applied to the face. In addition, you should make sure that you use enough to take precautions against acne or sebum on the face. You can use La Roche Posay Effaclar facial cleansing gels, which are known for daily use, every day in this respect. It is recommended to be used in the morning and evening during the day. Therefore, it is important that you do not exceed the specified amounts. After foaming some gel with water and applying it to your face by massaging, it is essential to rinse your skin with water. In addition, since the amount of the product is 400 ml, checking the times close to the end will prevent you from being deprived of the gel.
Suitable For Which Skin Type
La Roche Posay Effaclar facial cleansing gels are suitable for oily skin and acne-prone skin. Oily skin is the skin type with high sebum production. In fact, sebum increases when the sebaceous glands that cause sebum overproduce. As a result, oily / very oily skin types may appear.

Acne can also occur as a result of sebum. Acne is a common skin condition that results in clogging of hair follicles and sebaceous glands (oil-producing glands under the skin), causing acne. This is directly proportional to the fact that the body produces too much sebum. Skin that produces too much sebum can also face white or black spots. Therefore, these facial cleansing gels of the brand are also categorized as suitable for oily skin and acne-prone skin with such facial problems.


About La Roche Posay


The La Roche Posay brand is suitable for oily and acne-prone skin, sensitive and redness-prone skin, dry skin, etc. A dermocosmetic brand that offers care products for La Roche Posay, which offers products such as make-up removal, facial cleansing and moisturizer, operates within the L'Oréal group, one of the world's largest cosmetics and beauty companies based in France. If you wish, you can do a much more comprehensive shopping by examining the brand 's oily skin series products.


La Roche Posay Effaclar Gel Facial Cleansing Gel 400 ML