Suda Collagen 90 Tablet With Hyaluronic Acid & Vitamin C
People
are currently viewing the product.
Hurry, DON'T MISS THE DISCOUNT!
%-D
%!D:Day,Days;
%-H
%!H:hour,hours;
%-M
%!M:min,mins;
%-S
%!S:sec,secs;

Order in the next
[totalHours] hours %M minutes
to get it between and
Frequently Bought Together
Description
Suda Collagen 90 Tablet With Hyaluronic Acid & Vitamin C
Tablet Collagen

1000 MG Collagen Peptides

Type 1,2 And Type 3 Bovine Collagen

Hyaluronic Acid And Vitamin C Content

Biotin And Zinc Content

90 Tablets
What is Collagen in Water?
Suda Collagen is a food supplement that helps you add collagen to your diet. Suda Collagen is easily consumed with its tablet form. Aquatic collagen tablet containing collagen peptide of German origin also contains Type 1 Type2 Type 3 collagen as it is a product used for skin, hair and nails. The collagen peptide size in the collagen tablet in water is 2000 daltons. You can meet your body's collagen needs with this product, which allows you to add collagen in the form of peptides to your diet.
What is the Content of Collagen Tablet in Water?
There are 4 different forms of Suda Collagen supplement in total. Each form of Suda collagen , which meets you with single-use liquid, sachet, tablet and bar form options, has different amounts of collagen content. Each tablet in the form of collagen in water contains 1000 mg of collagen. Other substances in the collagen content of water are as follows:


Hydrolyzed collagen

C vitamin

Biotin

Hyaluronic Acid

Zinc

Lactobacillus Acidophilus

Type 1 and Type 3 bovine collagen

Collagen in water is produced with 100% bovine collagen with halal certification.
What are the Properties of Collagen in Water?
Suda Collagen tablet contains 90 collagen supplements , 1000 mg of hydrolyzed collagen peptide in each tablet and 1 billion probiotic microorganisms. The fact that collagen is in peptide form means that it has the feature of fragmented collagen ready for absorption by the body. 

There are 90 tablets in a box of this collagen supplement in tablet form. This product, which is a food supplement, contains probiotic microorganisms as well as collagen in its nutritional content. The probiotic microorganism in its content helps to regulate the digestive system and strengthen the immune system. Suitable for adult use Collagen in water also contributes to the strengthening of skin, hair and nail health. 

If you are wondering which collagen in water should I choose; The answer will be that you should choose whichever is easiest for you to consume. No form of collagen in water, including the tablet form, contains sugar.
How to Use Collagen 90 Tablets in Water?
Collagen 90 tablets in water is a food supplement suitable for adult use. It is recommended that adults consume 1 or 2 tablets of collagen in water at any time of the day. Other usage recommendations of the product are as follows:


It is recommended to use collagen in water continuously for 8-12 weeks.

By observing yourself after 8 weeks, you can adjust the next uses according to the benefit you get.

After using the product for 2-3 months, you can continue to use it in one-month cures at 1-month intervals.
We recommend that you use collagen in water, which is a food supplement, within the advice and knowledge of your doctor, taking into account his consumption recommendations.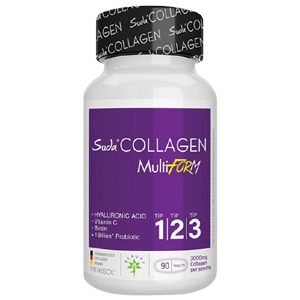 What Should Be Considered While Using?


You can get more ideas on the points to be considered when using by reviewing the collagen in water reviews and the recommended usage information of the product. Also, remember to keep the collagen in water in a cool and dry place, away from children! If there are conditions such as pregnancy, breastfeeding period, illness or drug use, use the product by consulting your doctor.
What is Suda Collagen Multiform 90 Tablet?
Suda Collagen Multiform is a food supplement enriched with various vitamins and minerals in addition to collagen supplementation.

Offering three different hydrolyzed collagen sources, type 1, 2 and 3, at the same time in each service, the product provides 3000 mg of collagen support. The collagen used in its content is a patented raw material belonging to the German brand Gelita.

Collagen supplement in water, which provides the body with 300 mg of vitamin C per serving of three tablets; Fortified with hyaluronic acid, zinc and biotin.

The product also contains 1 billion active probiotics. The probiotic contains the microorganism lactobacillus acidophillus, which has a high population in the human body and has the ability to form colonies. It can be easily consumed thanks to its aroma-free formula.
Highlights of Suda Collagen Multiform 90 Tablet
 3000 mg of Type 1,2 and 3 collagen peptides per serving (3 tablets)

Multi-formula containing probiotic microorganisms

With hyaluronic acid, vitamin C, zinc and biotin added

Gelita brand patented collagen content

Country of origin: Germany
Allergen warning: Produced in facilities that process milk, soy, egg, celery, gluten-containing grains and mustard.
About Suda Collagen
Suda Collagen brand is a brand that offers food supplements that help you add collagen to your diet. The brand, which formulates collagen supplements in different forms, has 4 types of collagen forms: liquid, tablet, sachet and bar. Suda collagen varieties, which do not contain sugar in any form, are also produced with 100% bovine collagen with halal certificate.
Did you know that?
In accordance with the Turkish Food Codex Regulation on Nutrition and Health Declarations published in the Official Gazette dated 26.01.2017 and numbered 29960, a balanced and varied diet is important for a healthy life.
Suda Collagen 90 Tablet With Hyaluronic Acid & Vitamin C